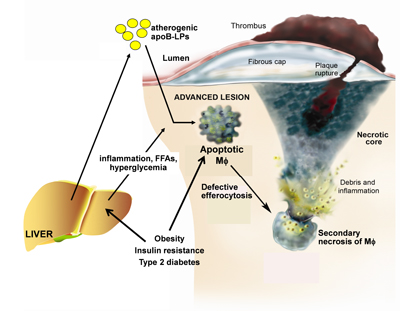 Macrophage apoptosis and defective efferocytosis lead to plaque necrosis, a key feature of clinically dangerous atherosclerotic plaques. In the setting of obesity, insulin resistance, and type 2 diabetes, liver-derived metabolic perturbations and direct effects of insulin resistance on lesional macrophages promote plaque progression.
The Tabas laboratory studies the cellular biology of advanced atherosclerotic plaque progression and the cellular-molecular mechanisms linking insulin resistance to enhanced atherosclerosis. The studies on advanced plaque progression have been driven by the findings in humans that <5% of coronary lesions cause acute atherothrombotic vascular disease and that these "vulnerable plaques" are distinguished by the presence of large areas of necrosis that promote inflammation and plaque instability.

The studies on plaque necrosis have focused on two processes that are critical to the generation of advanced lesional necrosis, namely, macrophage (MΦ) apoptosis coupled with defective clearance of the dead cells (efferocytosis"). The apoptosis studies have explored the mechanisms, consequences, and in-vivo relevance of the Integrated Stress Response (ISR), notably the PERK-CHOP branch of the endoplasmic reticulum (ER) stress pathway known as the stress Unfolded Protein Response (UPR); and a non-ER stress pathway involving a kinase called PKR. The laboratory has established a critical link between the UPR and a calcium-induced apoptosis pathway. This pathway involves an ER calcium-release channel called IP3R (inositol-3-phosphate receptor), a calcium-sensitive protein kinase called CaMKII (calcium-calmodulin-dependent protein kinase II), and oxidative stress-generating enzyme, NADPH oxidase. Ongoing work is focused on additional pro-apoptotic processes involving mitochondrial oxidative stress, mitochondrial-calcium interaction, and the death receptor-caspase 8 pathway. Additional new studies are exploring processes that are atheroprotective through preventing advanced lesional MΦ death, defective efferocytosis, and/or inflammation. These processes include autophagy; dendritic cell-mediated regulatory T cell activation; and arachidonic acid-derived lipid mediators that promote inflammation resolution. Efferocytosis studies in the lab are investigating the role and regulation of the MΦ efferocytosis receptor MerTK and the mechanisms and consequences of efferocytosis by plaque dendritic cells.

Obesity, insulin resistance, and type 2 diabetes are becoming the major drivers of atherothrombotic vascular disease worldwide. The Tabas laboratory is part of a collaborative group, funded by an NIH Program Project (PPG) and including the laboratories of Drs. Alan Tall and Domenico (Mimmo) Accili, exploring the cellular and molecular mechanisms of this association. Recent published work from the PPG elucidated mechanisms of enhanced advanced lesional MΦ death and plaque necrosis in the setting of MΦ insulin resistance, and new work in this area has directly linked these findings to calcium-induced apoptosis (above). The PPG has also discovered new pathways in the liver that increase the risk for atherosclerosis, including dyslipidemia, insulin resistance, and hyperglycemia. In this context, the Tabas laboratory has recently discovered that a calcium-IP3R-CaMKII pathway in hepatocytes, similar to the one described above in MΦs, plays a key role in glucagon-mediated excessive glucose production, insulin resistance, fatty liver, and dyslipidemia in the setting of obesity and type 2 diabetes. Ongoing studies are investigating the detailed molecular mechanisms involved in this new pathway.

The ultimate goal of each of these projects is to continually pinpoint areas of therapeutic potential. The lab is particularly interested in new therapies that prevent the conversion of benign atherosclerotic lesions into disease-causing vulnerable plaques—work that is now being carried out using nanoparticles to deliver relevant compounds to atherosclerotic lesions (funded as part of an NIH Program of Excellence in Nanotechnology). The laboratory is also interested in using drugs to disrupt the aforementioned new glucagon-mediated pathway in liver, i.e., to block the generation of systemic, liver-derived atherosclerotic risk factors in the setting of obesity and type 2 diabetes.
Postdoctoral Research Position:
The Tabas laboratory (http://www.tabaslab.com) in the Department of Medicine of Columbia University Medical Center is seeking a talented postdoctoral research scientist to study molecular-cellular pathophysiology of cardiometabolic disease, including atherosclerosis and obesity/insulin resistance, with an emphasis on myeloid cell and hepatocyte signaling pathways and inflammation and its resolution.
This is a highly competitive position, and only those candidates with the following qualifications will be considered: a Ph.D. or M.D/Ph.D. degree with (1) notable pre-doctoral accomplishments, especially high-quality publications in first-rate journals; (2) comprehensive experience in both molecular-cellular biology and mouse models of disease; (3) excellent communication skills, particularly ability to comprehend rapidly spoken English and to speak fluently in English; and (4) no more than 2 years post-PhD.
Interested candidates who meet these qualifications should send cover letter and CV to iat1@columbia.edu.
Columbia University Medical Center is an Equal Opportunity/Affirmative Action Employer


---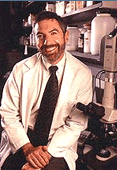 Ira Tabas, MD, PhD
Richard J. Stock Professor and Vice-Chair of Research
Department of Medicine
Professor of Pathology & Cell Biology (in Physiology and Cellular Biophysics)
Columbia University Medical Center
Department of Medicine
Columbia University
630 West 168th Street
New York, NY 10032
Office: PH 8-East-105F
Laboratory: PH 9-405/406
Tel (office): 212-305-9430
Tel (lab): 212-305-5669
Fax: 212-305-4834
iat1@columbia.edu
---
What's New?
Press Release
Change in Mitochondria is Critical for Clearing Dead Cells.
September 21, 2017
SCIENCE
PODCAST

TABAS AND GLASS, 339 (6116): 166-172
January 11, 2013

Ira Tabas [of Columbia University's Department of Medicine] reviews recent advances in anti-inflammatory therapies in treating and preventing chronic disease. "Inflammation, once it gets going, can lead to tissue destruction. So the very elements of inflammation that can destroy the invading organisms can also destroy host tissue. And when tissue gets damaged, it can lead to tissue disfunction, according to Dr. Tabas.