Ira Tabas, MD, PhD
Professor of Medicine and Anatomy & Cell Biology

Department of Medicine
Columbia University
630 West 168th Street
New York, NY 10032

Office: PH 8-East-101B
Laboratory: PH 9-405-406
Tel (office): 212-305-9430
Tel (lab): 212-305-5669
Fax: 212-305-4834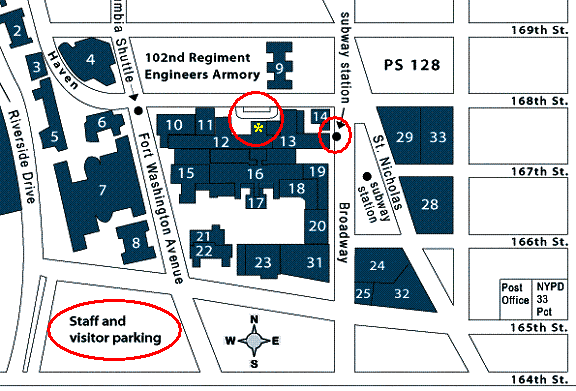 Travel to Columbia University Medical Center by taxi (622 West 168th Street); subway (A, 1, or 9 train to 168th & Broadway station); or car (parking lot at Fort Washington and 165th Street). These 3 areas are indentified by the red circles on the map. Go to the main entrance of the old Presbyterian Hospital (PH) building at 622 West 168th Street (yellow asterisk on Bldg #12 on map), which is halfway between Broadway and Fort Washington Ave. Enter the revolving doors and walk straight ahead to the security guard, tell the guard you are visiting Dr. Tabas or a lab member, and walk straight ahead to the main PH elevators.
For Tabas office: Take elevator to 8th floor. Upon exiting the elevator, turn toward large, curved orange-pink wall with a "Department of Medicine" sign, then at this wall make a left into the PH-8-East corridor. Make your first right into a suite of offices, then turn right--my room is on the left--101B.
For Tabas laboratory: Take elevator to 9th floor. Upon exiting the elevator, turn toward the doorway leading to the "stem" corridor between the PH and P&S buildings. The Tabas laboratory occupies this entire "stem" corridor past the doorway--rooms PH-9-405 and PH-9-406 are the main laboratory areas.